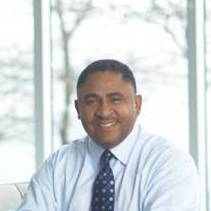 Kevin and Arlene Williams Scholarship
The Kevin and Arlene Williams Scholarship was established by Mr. Kevin Williams. Mr. Williams served as President and Managing Director of General Motors Canada Limited from April 1, 2010 to December 31, 2014. He had overall responsibility for all General Motors operations in Canada. The youngest of 12 siblings and the first to earn a college degree, Kevin began his GM career in 1983 as a reliability analyst at Buick City in Flint, Michigan. Mr. Williams has steadily progressed to hold leadership positions across many areas of the business. His most recent assignments include GM vice president and general manager of Service and Parts Operations, president and managing director of GM de Mexico, and vice president of quality for GM North America, during which time he also served as Chairman of the GM African Ancestry Network (2004-2005), as well as Chairman of the Funding Board for the Black United Fund of Michigan.
Mr. Williams is the former Chairman of the Board of Directors of GM Canada Ltd, on Board of Directors of the United Negro College Fund Executive Board and chairman of UNCF's Strategy Committee, has served as Trustee of Genesys Health System Board of Trustees, Genesys Health System Safety and Quality Committee, Director of Genesee County Michigan, Regional Chamber of Commerce, Director of Automotive Youth Educational Systems, Inc., Executive Board. He also continues to support his alma mater, Tennessee State University, by serving on the Board of the TSU Foundation. Williams is a member of Omega Psi Phi Fraternity, Incorporated. He was recognized for his innovative leadership and commitment to workplace diversity, receiving the "Trailblazer Award" during the 2010 Global Automotive Summit held by the Rainbow PUSH Coalition.
Kevin is married to the lovely Arlene Williams and they are the proud parents of two beautiful daughters.